How to Throw a Football in 6 Steps
Have you ever observed people throw the football with extraordinary power and accuracy? How do they do it? Throwing a perfect spiral football is not as difficult as you think with the correct technique and a little practice. Professional quarterbacks and wide receivers make it look easy, but anyone can learn how to throw a tight spiral by following our six simple steps, and practicing their fundamental skills.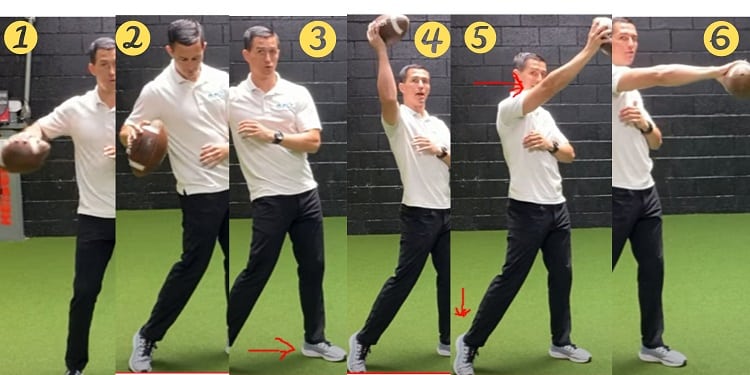 If you miss the bunch of mechanics I'm going to explain in this post, you'll struggle with your throw. I've worked on these techniques for years and have developed them enough to teach you the skill. Whether you are a novice or a professional, it's always good to have a quick recap of the fundamentals every once in a while to stay on top of their game.
Steps To Throw a Football Properly
In this article, I'll try to compartmentalize the mechanics of throwing a football so you can understand. I'll also give you some drills to work on if you want to take your game to the next level.
Let's have a look at the 6 steps I follow to throw a football:
Step 1: Placing Index Finger and Middle Finger
For a perfect spiral, you need to grip the football between your index finger and your middle finger. Place these two fingers right behind the laces on the side of the football that's pointed towards you. Your non-throwing hand should be placed on the back of the football to steady it.
Here are the steps to properly hold a football:
Place your hand on the ball with your index finger closest to the point of the ball.
Rest your middle finger on top of the white laces.
Place the ring finger between the second and third laces from the back.
Between the fourth and fifth laces from the back, insert your pinky finger.
Wrap your thumb around the ball.
Quarterbacks vary between two, three, and four fingers on the laces, with the remaining fingers wrapped around the back of the ball. Now that you know how to properly hold a football and use your throwing hand, let's move on to the next step: bringing your throwing arm back.
Step 2: Bring Your Throwing Arm Back
The very first step is to understand your load. You should know how to bring your ball back. That is the most important step because you need to make sure the direction of the load is correct.
Moreover, you need to make sure you are using the right muscles in getting your load down.
Getting your load down helps you generate the power in your throw and also provides a swift motion to the throw.
In the actual game, due to pressure, you might have to rush through his step. But you have to make sure you practice it enough before going onto the pitch.
Step 2: Get Your Feet Shoulder Width Apart
The next thing you have to work on is keeping your throwing shoulder back and your non-throwing shoulder forward, while making sure to keep your hips and feet shoulder-width apart. This is to make sure you have a proper base and can generate enough power for the throw. Most people, especially newbies, focus too much on the step by step rather than creating that disassociation between hips and shoulders.
You'll also want to make sure to keep your knees slightly bent so that the weight is distributed on the balls of your feet and you are ready to move at any time and in any direction. Your upper body and lower body work together to maximize your accuracy and power, so that you can throw farther and hit your intended receiver every time.
Step 3: Step With Back Foot Push Off
Then you take a step forward into your non-dominant foot and load your throw. You should get the rotation around your hips when you take the step and load the throw.
During this process, you need to make sure you keep your shoulders back otherwise you will not be able to generate enough power in the throw. The heel of your back foot should face vertically upwards during the push-off.
Step 4: Elbow Forward, Wrist Rotating
Now you need to step through pushing off your back leg. Keep your front should back and drive the arm forward using your elbow. The most important step is to keep your shoulder locked in. In this step, make sure to lift the football from chest level to over your head.
Step 5: Extend The Elbow
The football should be over your head in such a way that you should be able to extend your arm for launching your throw. This step also helps you create accuracy with your throw. If you extend your throwing arm straight ahead, your throw will be accurate.
On the other hand, if you don't generate enough power and extend your elbow correctly, it would ruin the throw as the ball would either go too high or too low than the intended target.
Step 6: Internally Rotate The Shoulder And Flick The Wrist
Make sure you do the final step in the throw before releasing the ball. This follow-up step is very important as it helps you maintain the flow of the throw. Another thing to keep in mind at this point is to not mix the previous step with this one.
You have to ensure that after you extend your elbow, you are internally rotating the shoulder and flicking the wrist in the end. Also, you should not lose the position of your front arm in the process as it's essential for accuracy and stability in your throw, it will also keep your spine healthy and not cause any injury.
How To Throw a Football Farther
Once you've figured out your throwing motion and arm motion, it's time to work on arm strength and follow through.
Here are some tips on how to increase your arm strength:
Do some weightlifting exercises specifically for your arms and shoulders.
Do some exercises to increase your range of motion.
Make sure you are eating a healthy diet and getting enough protein.
Get plenty of rest so your muscles can recover and grow stronger.
And here are some tips on how to improve your follow through:
Extend your arm fully in the direction you want the ball to go.
Snap your wrist as you release the ball.
Follow through by continuing to point your fingers in the direction the ball is going.
Don't let your elbow drop down as you throw; keep it up at shoulder height.
Once you have increased arm strength and learned how to properly follow through, you will be able to throw a football farther than ever before! Just remember to practice, practice, practice!
How To Throw a Football Faster
If you want to throw a football faster, there are some things you can do to improve your speed. First, make sure you have good form. This means having a strong grip on the ball, and throwing with your entire body instead of just your arm. You should also focus on building up arm strength so you can generate more power behind your throws. Finally, practice regularly so your muscles can get used to the motion and build up speed.
With a little effort and practice, you'll be throwing a football faster than you ever thought possible! Performance Lab of California has the perfect program to get you started. Our experts can help you improve your form, build up arm strength, and increase your speed. Contact us today to learn more!
Perfect Your Passing Game at Performance Lab of California
I hope this information was useful to you and you understood the mechanics behind how to throw a football in 6 steps. It takes a while before you can master any skill, you just need to keep at it until you get better.
If you enjoyed reading this, also check out: Top 10 Secrets To Improve Your Speed Immediately We've also got programs for you that can help you with improving your overall speed and quarterback mechanics.